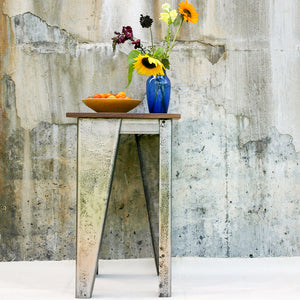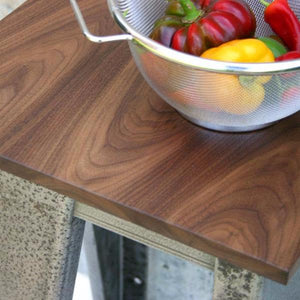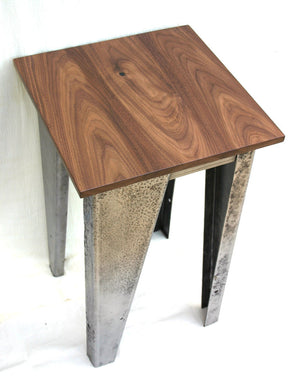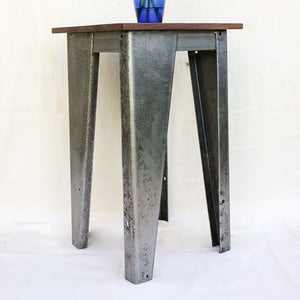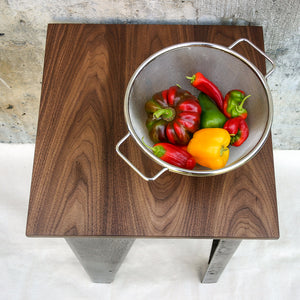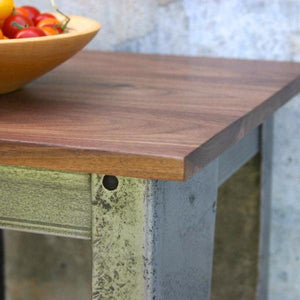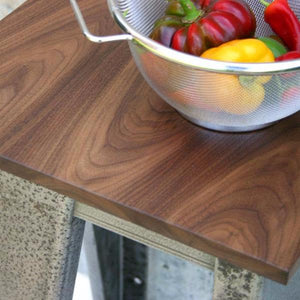 Custom Salvaged Steel & Solid Walnut Wood End Table
Perfect for beside your bed or couch, or in your foyer or hallway, this end table is full of contrasts: the classic elegance and flowing grain patterns of the solid walnut top against the harder lines of the salvaged steel legs; the reflective, roughly polished steel surfaces against darker areas - pockmarked from rusting and nicked from years of use. Bolt holes allow light to shine through or cast shadow, depending on the angle of view. The steel legs come from scraps left over when a large trailer was converted into a boat dock on Lake Champlain.
The arrangement of the legs was inspired by the shape of the reclaimed steel support brackets themselves, playing off of traditional wooden furniture leg designs and setting them on their ear – adding a feeling of movement around the square base.
OTHER WOODS ALSO AVAILABLE: The table pictured here has a walnut top, but other woods are also available, including maple, cherry and ash. I also frequently work with reclaimed historic barn wood.
DIMENSIONS: This table stands 23.5" tall with a 14.25"x14.25" square table top. Other sizes and shapes may be available. Tables as tall as approximately 30" can be made from this steel and larger tabletops can be accommodated as well. Just let me know what would be best for your space. (Please note: Larger sizes will increase shipping costs.)
UP TO THREE TABLES AVAILABLE: Quantity is limited to three tables, because of a limited amount of this reclaimed steel.
Please note that this table is custom made to order. The table you see in these photos is still available but variations in size, design and wood choices are also available. Wood grain and color will vary, as will the patina and character of the upcycled steel legs. I am more than happy to work with customers and send photos of wood or steel to ensure you are getting the piece you want.
SHIPPING OR DELIVERY: Please allow at least 6-8 weeks prior to shipping or local delivery. Local pickup or delivery may also be available to Vermont or neighboring areas. Shipping costs to your region may vary and I will refund the difference (after material costs) if the item ships for less than the estimate here.