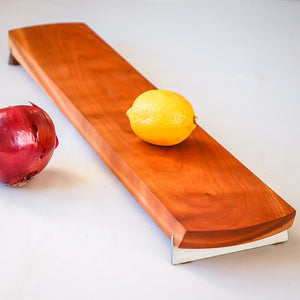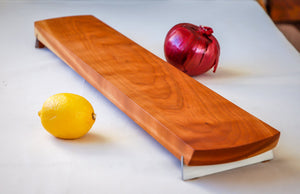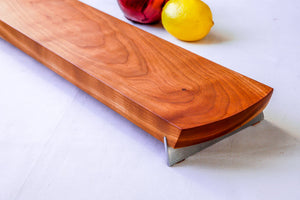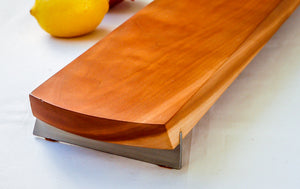 Cherry Baguette/Appetizer Board w/ Stainless Steel Feet
Combining stainless steel feet with a striking cherry wood top, this baguette serving board will make even the simplest appetizer or humblest cheese plate feel special.
DIMENSIONS: 21-1/2" long x 4-5/8" wide x 1-5/8" tall
** Perfect for serving cheese and bread, appetizers or crudite. Can also be used as a trivet or display stand.
** Ready-to-ship **
** The item you see in the photos is the item you will receive. More photos available upon request.
** Discounted Price ** due to a small nick in one corner. (The board was dropped while on display at a recent woodworking show. See far right photo above to see a detailed shot.)
** Feet are padded with leather to protect table surfaces.
NATURAL, FOOD-SAFE FINISH: Finished with multiple coats of 100% pure tung oil, a completely natural, food-safe and durable oil that cures to a protective and durable coat.
(PLEASE NOTE: Pure tung oil is very different from off-the-shelf "Tung oil finish" or "Danish oil," both of which include chemical dryers, varnish and other ingredients. Pure tung oil, by contrast, is just that - oil from the nut of the tung tree. This oil has been used for centuries in China to protect and enhance the beauty of furniture. It is both natural enough for a completely non-toxic, food safe finish and protective enough that it is often used on wood flooring.)
CARE INSTRUCTIONS: Care is as simple as wiping clean with a soft sponge and towel drying. Do not soak in water or put into a dishwasher. Periodically refreshing with a natural oil (walnut, mineral, pure tung oil or wax pastes all work well) will keep this serving board beautiful and useful for years to come. Each board comes with a care instructions card with more details.