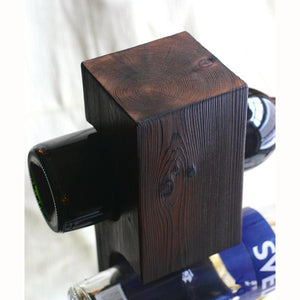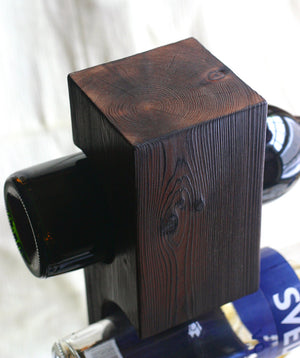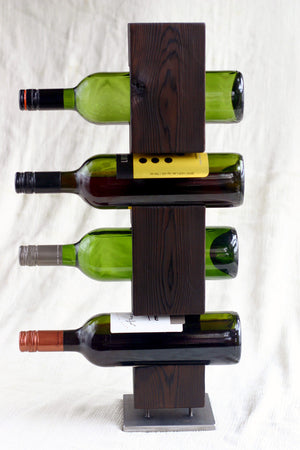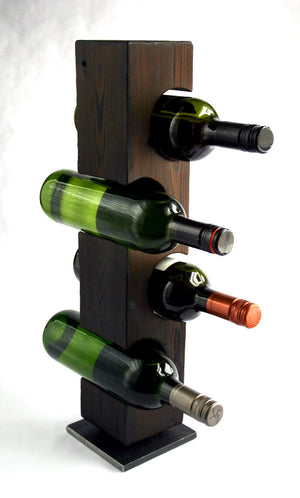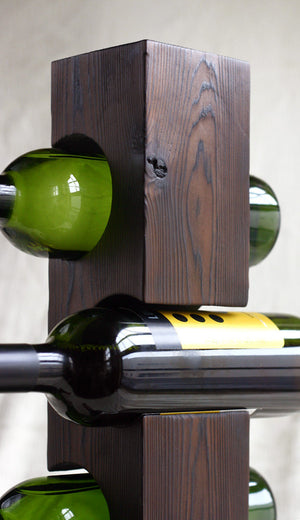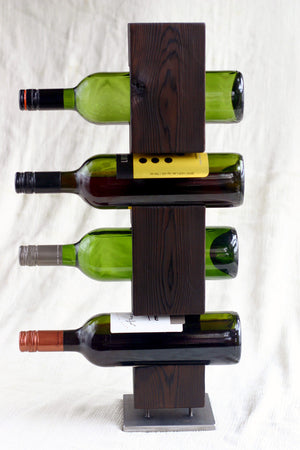 Custom Shou-Sugi-Ban (Charred Cedar) Wine Rack
** Please note, the wine racks in these photos are not the rack that you will receive. (This listing is for a custom, made-to-order wine rack. Why not take a moment to check my other listings before ordering? I might already have something ready-to-ship in stock that you'll love.)
Combining the Japanese technique of charred cedar wood with a modern sense of design, these free-standing wine racks are made from steel and solid pieces of native Vermont northern white cedar wood. Each rack securely holds four standard 750-ml wine bottles and lets you display the labels of your favorite wines.
The Japanese shou-sugi-ban technique of charring wood is used on outdoor buildings to protect wood from weather and fire, but in these wine racks it adds a depth and complexity of color and highlights the natural texture of grain in this native Vermont wood. The color of the wood changes with perspective and light, looking almost pure black from one angle or warm, deep brown with subtle highlights from another. The technique also increases the textural contrast of the grain, creating ridges that catch the light and cast shadows.
The northern white cedar is locally harvested in Vermont. These wine racks have a black oxide steel base, giving them both stability and a modern look.
After charring, the wood is sealed with my own oil varnish.
DIMENSIONS: My 4-bottle wine racks are approximately 21.5" tall with either a 5"x5" or 5"x6" steel base, depending on the wood used. All dimensions can vary slightly from one piece to another. If you have specific space requirements or want a larger or smaller wine rack, please contact me prior to ordering.
MADE TO ORDER: Please note that each wine rack is unique and individually made - wood grain, knots and color vary.
Please allow 6-8 weeks for processing/building prior to shipping. Shipping is normally through priority mail unless another service is requested.