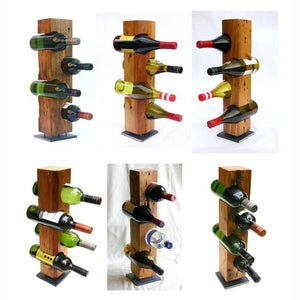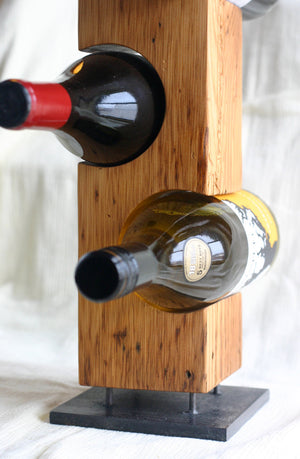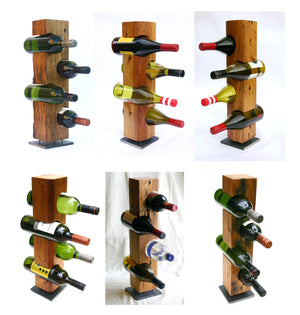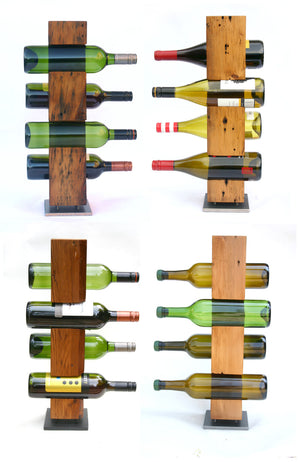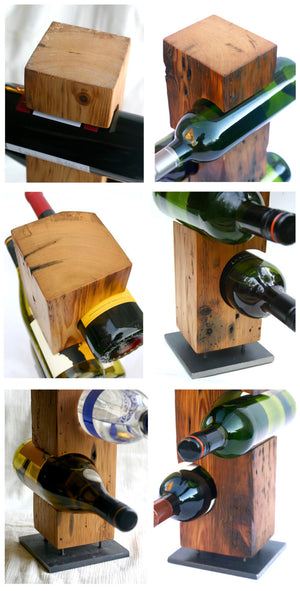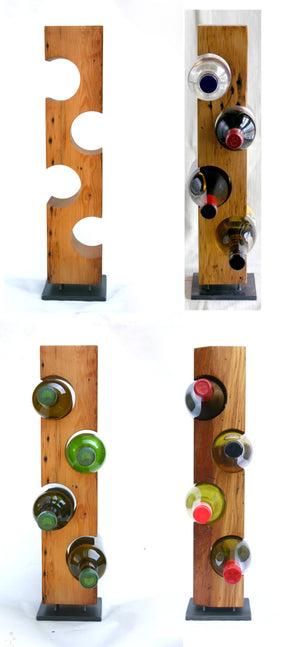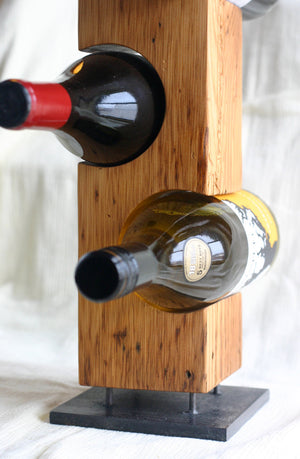 Custom Wine Rack, Reclaimed 1800-1900 Barn Wood, Made-To-Order, "Smooth"/"Light" Wood
Please note that the wine racks you see in these photos are not the same wine rack you will receive. (This listing is for a custom, made-to-order wine rack. Why not take a moment to check my other listings before ordering? I might already have something ready-to-ship in stock that you'll love.)
Bringing together the aged rustic feel of weathered barn wood with a modern sense of design, these free-standing wine racks are made from steel and solid pieces of reclaimed wood. Each securely holds four standard 750-ml wine bottles and lets you display the labels of your favorite wines.
These barn wood wine racks are made with wood reclaimed from barns, farmhouses and similar structures from around Vermont and New England. I am currently working with wood reclaimed from hemlock and oak from several mid-1800s Vermont farmhouses and barns. Tight-grained, old growth native woods are hard to come by in Vermont and New England these days, but in these historical, reclaimed timbers this beautiful wood lives on.
The wood is planed and sanded leaving the natural aged wood look and as much of its original patina as possible, but also a smoother finished surface. You can expect to see not only the grain and aged character that nature gave this beautiful wood, but also the signs of use and history that humans brought to it - including nail holes and the darkened iron stains from those nails. When possible, I leave nails still embedded in the wood. These nails are sometimes visible on the surface, but are often buried below the surface.
These wine racks have black oxide steel bases, giving them both stability and a "modern meets rustic" look.
DIMENSIONS: My 4-bottle wine racks are approximately 21.5" tall with either a 5"x5" or 5"x6" steel base, depending on the wood used. All dimensions can vary slightly from one piece to another. If you have specific space requirements or want a larger or smaller wine rack, please contact me prior to ordering.
MADE TO ORDER.
Each wine rack is unique and individually made - wood grain, color, and the patina/character of age varies. I've included photos of several light barn wood wine racks to give you a sense of some of the variations you can expect from this Vermont barn wood.
I am happy to work with you to make sure your wine rack has the characteristics you desire, including sending photos of the process and wood options for your rack.
TURN AROUND AND SHIPPING.
Wine racks are made to order. Turn around is normally faster, but due to the volume of current orders, please allow 6-8 weeks from the time you place your order to the time it is completed and shipped.
If the quoted shipping cost is more than the actual cost (including materials) I will refund the balance to you after shipping. Depending on shipping costs to your area, priority shipping is often available with no additional charge.