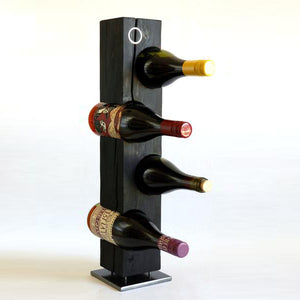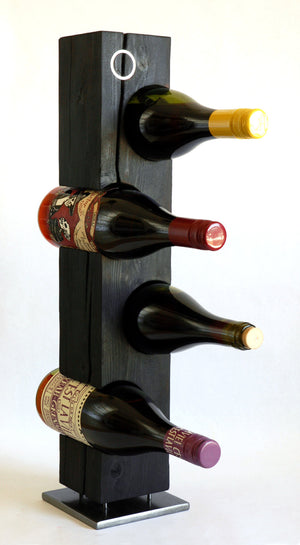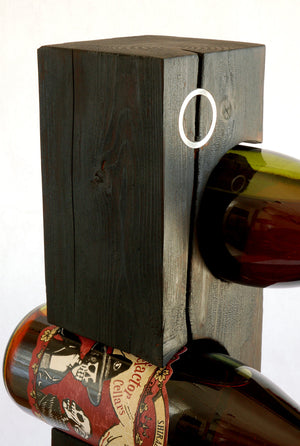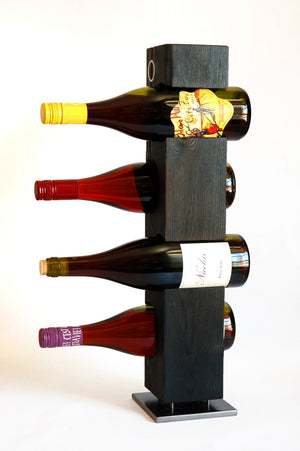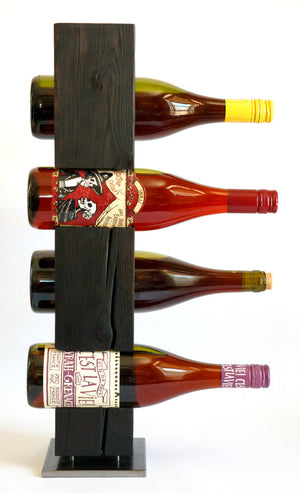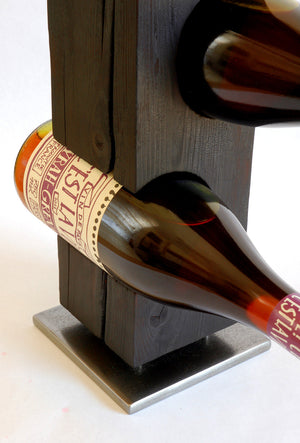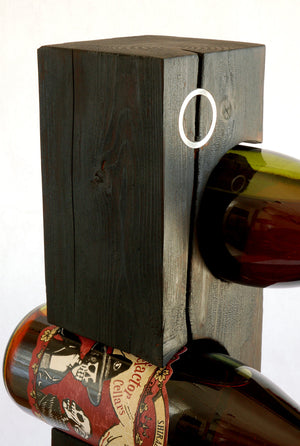 Custom Shou-Sugi-Ban (Charred Cedar) Wine Rack with Metal Inlay
This listing is for a custom made-to-order wine rack. Please note, the photos you see here are not of the wine rack you will receive. Grain and colors can vary and placement of the metal inlay will be determined in the design process, depending on the wood itself and customer preference. (Please check my other wine rack listings before ordering - I might have a completed rack ready to ship that you'll love.)
Combining the Japanese technique of charred cedar wood with a modern sense of design, this free-standing wine rack - with a metal "ring" inlay on one face - will be made from steel and a solid piece of native Vermont northern white cedar wood. It will securely hold four standard 750-ml wine bottles.
The steel base will be sanded and brushed to a "rough polished" raw steel look, harmonizing nicely with the inlaid metal "ring".
The Japanese shou-sugi-ban technique of charring wood is used on outdoor buildings to protect wood from weather and fire, but in this wine rack it adds a depth and complexity of color and highlights the natural texture of grain of this native Vermont wood. The color of the wood changes with perspective and light, looking almost pure black from one angle or warm, deep brown with subtle highlights from another. The technique also increases the textural contrast of the grain, creating ridges that catch the light and cast shadows. To achieve these effects, the wood is burned lightly, brushed, rubbed and often charred again.
The northern white cedar is locally harvested in Vermont. This wine rack has a "rough polished" steel base, adding both stability and a modern look.
After charring, the wood is sealed with my own oil varnish.
DIMENSIONS: Approximately 21.5" tall with a 5"x5" steel base. Perfect for display on a counter-top, side board or table.
MADE TO ORDER: The wine rack you see in these photos is not the wine rack you will receive. Wood grain, color, charring and placement of the aluminum inlay can all vary.
TURN AROUND AND SHIPPING.
This listing is for a made-to-order wine rack. Turn around is sometimes faster, but please allow 6-8 weeks from the time you place your order to the time it is completed and shipped.
If the quoted shipping cost is more than the actual cost (including materials) I will refund the balance to you after shipping. Depending on shipping costs to your area, priority shipping is often available with no additional charge.